Have you ever experienced "bad quality"?
Maybe it was lousy customer service, long delays, poor communications or perhaps products that flat out didn't work? All symptoms of poor quality.
Some organizations tend to tolerate quality problems until the pain they cause reaches a threshold requiring action. Quality issues glide silently through a business like an underground stream. One day a crisis happens like the loss of a key customer, and that quiet stream becomes a geyser. The organization is propelled into reaction mode. In their rush to action some gains are made, but overall the quality initiative fails, leaving a "bad taste in the mind" of the workforce.
Other organizations design quality into their business systems and processes before a crisis occurs. They focus on meeting customer specifications day-in, day-out. Their road to excellence is paved with a thousand small, fundamental tasks - each done with quality. Quality in strategy, quality in execution - and their results show it.
There are 101 ways to improve quality - do you know which is best?
Whether you are in a crisis mode, ahead of the power curve, or in-between, the world of quality can be confusing. SPC, ISO, TQM, Baldrige, Six Sigma -- there's certainly no shortage of approaches and acronyms. But which is best for your unique circumstances, your culture, and your desired outcomes?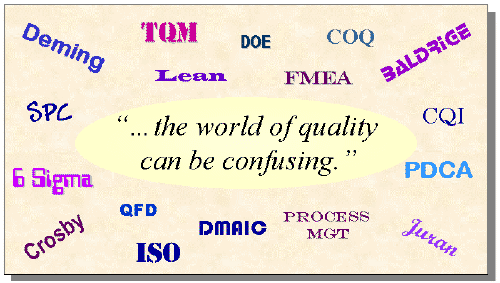 The Strangest Secret
Do you know the reason behind most failed quality initiatives?
You can find a lot of lists attributing failure to lack of management support, no link to strategy, no governance systems, etc. Underlying all that is something much simpler. If your quality approach is counter to your organization's culture, either change your approach, change your culture, or get ready to fail.
When you cut through the fog of confusion and align your quality approach and your culture, improvement becomes simple and natural. From rudimentary to sophisticated, quality methods are all composed of basic, fundamental steps that can be performed from the boiler room to the board room. Done properly, it is not something that is "bolted on" to your organization, but woven into the fabric of your culture.
How can JCG help?
JCG cuts through the fog to find the approach that is best for you, taking into account your desired outcomes, culture, and history with such approaches. We further support your efforts in a variety of ways:
Helping align your culture and quality approach to ensure success. Risk assessments and mitigation strategies.

Assisting in building quality into your strategy, and cascading it into tactical plans and personal objectives.

Building an efficient management system including metrics, dashboards, and reviews to ensure effective sponsorship and governance.

Working with your leaders and managers on planning, leading, assessing progress, and creating a success environment.

Direct hands-on help for your teams and workforce in making the improvements.

A variety of training options designed to quickly build the capability of your workforce to to implement your approach of choice.

Executive briefings on quality topics that provide your leadership and management with a quick overview of the fundamentals involved in quality improvement.

If the path you choose is based on Baldrige, we provide full support, including internal assessment, training, application writing, and support in addressing assessment feedback.
© 2002-2015 The Jeff Cole Group, Ltd.